Annie
Hi, my name is Annie Winterburn and I'm the owner of Spot On Driving. I am an ORDIT registered trainer as well as a Grade A 'ADI' (Approved Driving Instructor). I am the proud owner of Spot On Driving which provides professional driving lessons in the Knutsford and Northwich area.
I am also an NLP Master Practitioner, enabling me to provide additional services such as Hypnotherapy and Anxiety and Confidence sessions to help people with their tests.
I live in Knutsford, Cheshire with my husband Eddie and our dog, Ralph. We have been married for 24 years; he's a dentist, but he also has an active role in Spot On and has trained to become a driving instructor to help me further the business. I have 4 grown up children, my 2 step-sons James and Mark are both married and live in Manchester. My son Lex is 25 years old and is a Driving Instructor and a Barber. My daughter Rosie is 24 years old and is a Professional Makeup Artist.
I qualified as a driving instructor in 2013, just in time for Lex to be my first pupil when he turned 17. I thoroughly enjoyed teaching him to drive and spending the quality time with him. It was fantastic that I taught Rosie to drive a year later. We managed to get on well throughout and I was very proud when they passed with only a couple of faults each.
In my spare time, I like to keep fit by jogging and training in a gym. My husband and I enjoy walking and cycling.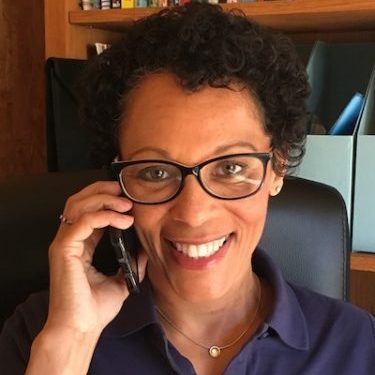 Previously, I have done a few different jobs including owning and running a Pottery Painting studio, Director in a family owned Fine Food Company, Childminding, Manager for a charity that provides care in the community for adults with learning difficulties and I went to University to train to be a Primary School Teacher, and specialising in Physical Education. Unfortunately, I gave up my degree in the third year when I adopted my two children. Although it's a shame that I didn't get a degree, my children were my priority and the knowledge I gained at university has really helped with my present career.
My time at University also equipped me well for delivering Theory Lessons and creating my Online Driving and Online Theory Test Workshops.
I absolutely love my job and get great deal of satisfaction from teaching people to drive and from the challenge of finding different methods to suit all types of learners. It is so satisfying when a learner driver passes their practical test and to have the knowledge that they are safe, confident and competent drivers. It is also immensely satisfying to enable instructors to pass their Parts 1, 2 and 3 qualifying tests.
Most pupils have regular weekly lessons, but I have also taught Semi-Intensive Courses, lessons for those with Special Needs, Refresher Driving Lessons and Parking Skills lessons.
Each and every pupil is unique in the way they learn and it's a pleasure to be part of the process and to have the challenge of finding methods to suit everyone.
Please feel free to contact me to discuss your requirements.
I look forward to hearing from you,
Annie 🙂
Lex
My name's Lex and I'm the son of Annie and Eddie. You could say I've been a part of Spot On since the beginning seeing as I was Annie's very first pupil.
I'm very active, staying busy with socialising and sports whether that be in basketball, boxing or in the gym.
Outside of that I'm also a Barber, teaching myself how to cut hair whilst still at Bournemouth University. I continued on to work in two different Barber shops before deciding to move into the family business delivering driving lessons and wanting to help it expand and grow.
I'm really excited to see this great company grow more and more with the many different services we provide alongside instructing.
Annie's done a brilliant job at finding new areas to target, such as Instructor Training, Fleet Training, Driving Theory Online Courses and NLP Therapy.
The variety of the services we provide, I feel, has put Spot On in a different lane when it comes to the professionalism of a driving school.