Pass Your Driving Test with Spot On
Are you looking to pass your driving test? And feel the freedom and independence of passing your driving test? If so, then you've come to the right place to hear all about how.
Driving lessons with Spot On instructors will help you to learn faster and easier. Instructors are trained to the highest standard and use the latest coaching methods to help you become the safest possible driver. They deliver lessons to cover the whole syllabus, at a pace that suits you and your needs.
Spot On learners can use our eLearning course, our videos and other amazing resources, which are all designed and created to help you learn easier, be safer and pass quicker.
Our policy is to provide an excellent service and the highest quality driving lessons to all our pupils.
All Spot On instructors have high pass rates because our lessons are structured to enable learners to achieve the most possible out of each and every lesson
Learners are encouraged to take responsibility for their own development, and they become knowledgeable, independent and confident before taking their test.
This is also helped by having regular mock tests, starting from 'Mini 5-minute Tests' to 'Full 40-minute Tests', making decisions with an instructor about route planning and independent driving.
Spot On owner, Ann-Marie, explains all about your driving lessons and passing your driving test!
Just imagine how fantastic it will feel once you've passed your driving test and have your full driving licence!
What will you now be able to do? Where will you now be able to go? How will you now feel?
Even the most anxious Spot On learner ends up feeling calm, relaxed and confident about driving by the time they take their driving test. Picture how great it will feel when you are confident enough to take yourself wherever you want to go!
What Do We Offer at Spot On:
Driving Lessons - Pass Your Driving Test
Theory Test Workshops - Pass Your Theory Test
Instructor Training - Train To Become A Driving Instructor
Confidence Coaching - Get Rid Of Your Anxiety and Feel More Confident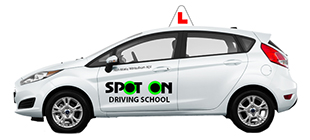 Why choose Spot On Driving?
The most important thing to me was to have a driving instructor what was friendly, reliable, comforting and reassuring. I wanted an instructor with flexibility who calms my nerves and teaches me with confidence. One to really help me. Learning to drive was easier than I expected but I felt more challenged in the beginning. 
Candy's teaching methods were really really helpful. 
I'd recommend Spot On because they've made me feel so confident, happy and relaxed with my driving. 
I have really enjoyed my lessons with Candy. She is the best! I feel so ready on my own, thanks to Spot On. 
Amy Hurst
Amy passes her driving test with Spot On