It is so important to find a driving instructor who you feel happy to spend time with, and whose teaching style suits your individual way of learning. You will spend many hours in a car together, and you need to feel comfortable in your lessons in order to get the very best from your time together.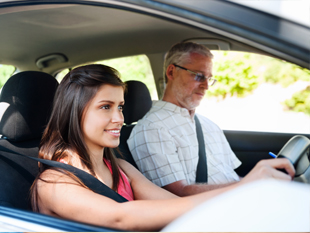 Your driving lessons should be structured in a way that helps you to enjoy them, and to feel that your skills have actually developed.
You should feel that you have been challenged enough in order to progress, but not too much that you feel out of your depth.
The route you drive should be appropriate for the level you are at. Not too easy but not too challenging either.
WHY CHOOSE 'SPOT ON' FOR YOUR LESSONS?
Spot On instructors will endeavour to arrive for all lessons on time. This may not always be possible due to traffic conditions, but every attempt will be made to do so.
Driving lessons will begin with an interactive discussion to establish your state of learning and explore any issues that may influence the driving session.
Following this will be confirmation as to what subjects you would like to cover in that lesson. This will have already been discussed at the end of the previous lesson, but plans can change for many reasons.
A risk plan will be devised to decide how much the instructor will help and how the responsibility will be shared, (e.g. are you going to have Full Talk Through? Have a go on your own? Have question and answer to help you?); this will be continually assessed throughout the lesson. This is in order to not over-instruct, or under-instruct, and help you to feel challenged but confident.
After a practice with the new topic, your instructor will stop to evaluate what has been learnt before you both decide how to continue with the next phase of the lesson. You may practice further or decide to move on to a new topic.
Lessons will finish with a re-cap. You will discuss 'What you have achieved', 'What you have developed', 'What needs further development', 'How you can develop further', and 'What you want to cover in your next lesson'. This will all be written into your Reflective Log.
The Reflective Log will be emailed to you. It will also include details on when your next lesson is.
You will be advised how you can prepare for your next lesson. This will normally be reading some Lesson Notes, Watching a Video and Completing a Quiz. These are all available on the Spot On eLearning website. Preparing for your lessons is not essential, but will help you to progress quicker as you will arrive at your lesson with some knowledge and understanding of the topic you are about to cover. You will spend less time talking and more time actually practicing.
Book your lessons here
Or get in touch for more information
The purpose of 'Spot On Driving School' is to provide a high quality driver education in combination with unrivalled customer service.
We will distinguish our self from competitors by providing excellent customer service.
We will endeavour to answer all customer calls in person between 10.00 am and 18.00 pm Monday to Friday on the same or next day.
Instructors will endeavour to arrive at the appointed lesson time. If this is not possible an apology will be offered.
Instructors will offer an interactive re-cap of the previous lesson to set a base line for tuition.
Instructors will state firm aim and objectives for the current lesson so the customer is in no doubt as to the purpose of the lesson and what they are trying to achieve.
Instructors will teach in a non-confrontational manner.
Instructors will offer feedback and encouragement linked to specific areas of development.
Instructors will interactively summarise the lesson so the customer is fully aware of their strengths and weaknesses and whether the lesson objective was achieved.
Instructors will endeavour to reply to text messages and calls from customers as soon as possible.
Instructors will keep the tuition vehicle in a reasonably clean and tidy condition that reflects the branding and professional image of the driving school.
Instructors will ensure that their personal hygiene is of the highest order.
Lessons
Tuition is available to anyone aged 15+ for Young Driver lessons at Henstridge Airfield, or for anyone aged 17+ who has a provisional licence. All learners must be able to read a number plate at a distance of 20.5 metres, with glasses if normally worn. Your Driving Licence will need to be seen, and your National Insurance number provided so your licence can be checked. Your eyesight will be checked at the start of your first lesson, and may be checked again close to your test date in case of any changes. Unless otherwise requested, your driving lessons will be on a one to one basis. We are happy to start and finish your lesson from different locations, provided these are agreed at least one week in advance, and that both are within the instructor's usual area of work. For Motorway, Pass Plus or Refresher lessons a Full Valid Driving Licence must be produced.
Medical Conditions
You must declare any medical condition that may affect your driving or anything that will affect your ability to learn. Any changes that occur during the time you are receiving lessons must be declared.
Cancellations
You MUST give a minimum of 48 hours' notice if you wish to cancel a lesson booking. If you do not give at least 48 hours' notice you will be charged for the lesson in full.
Payments
You MUST pay for lessons at least 48 hours prior to the start of your lesson. Payments can be made on the 'Make a Payment' page on the Spot On Driving website. Refunds will not be given. If you suspend taking any pre-paid lessons for more than 12 weeks, any remaining tuition will be forfeited.
Prices
The cost of your lessons will remain the same throughout, unless there has been a price increase and you have had a break from lessons of more than 12 weeks.
Driving Test
Your practical driving test will normally be booked by your instructor once you have passed a Mock Test, or at the start of a Semi Intensive Course. If you are not ready for your test 1-2 weeks before, it will be re-scheduled. Instructors at Spot On will refuse to take anyone for a driving test until they feel the pupil is fully prepared to drive safely on the roads, and are test ready. Lessons MUST be continued, and preferably increased, leading up to your driving test.
Punctuality
Instructors will always endeavour to arrive to your lesson on time. If they are going to be more than 5 minutes late they will try to call you (this will depend on whether they can stop the car to call, and if they have a mobile phone signal). Arriving late is occasionally unavoidable due to traffic holdups, breakdowns, accidents etc. If an instructor is late the lost time will either be added to the end of your lesson or added on to a future lesson. Occasionally lessons times will need to be changed, or a lesson cancelled. If your instructor needs to cancel your lesson you will not be charged for it. If you are late for your lesson then the time will be lost. If you don't turn up for a lesson your instructor will wait for you for 10 minutes. Unless they have heard from you, after 10 minutes they will leave and the lesson must be paid for in full.
Medication / Drugs / Alcohol
You MUST NOT be under the influence of drugs / alcohol during your lesson. In the event of there being any sign of drug / alcohol use your instructor will have no choice but to cancel your lesson / test, and you will be charged in full. Any prescribed medication that may affect your driving must be declared to your instructor.
Driving Penalties
During your lessons with Spot On you will be under very close supervision and your instructor will do everything they can to prevent you from breaking the law. However, any fines that are incurred will be the responsibility of you, the driver.
Damage To A Vehicle
During lessons, every effort will be made to assist you, the driver, in avoiding any damage to the car. However, if it is considered that you were driving in a dangerous way during a lesson and damage is caused you will be liable to pay for repairs. During your driving test, the examiner will not prevent you from hitting the kerb or causing damage to the car. Therefore, any damage caused by you, the driver, will be charged to you.
In Car Camera
Lessons may be recorded for safety reasons, and in the case of an incident. Sound will not be recorded without your knowledge.
Cancelled Driving Test
Spot On Driving cannot take responsibility for driving tests that are cancelled by the DVSA (Driver and Vehicle Standards Agency).
Pass Photo
Once you have passed your driving test your instructor will ask you to fill in a Customer Review form, and will take a Pass Photo of you and the Spot On car. The review and photo will be used on:
Website
Blog
Facebook
Twitter
It is your responsibility to inform your instructor if you do not want your review and photo used as above.