The best way to learn to drive is to take professional driving lessons with an Approved Driving Instructor.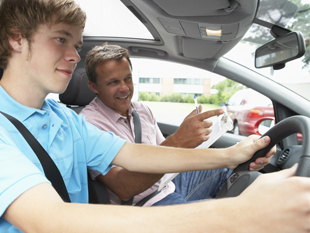 Being able to drive is an amazing skill to have. Once you've passed your driving test you will have the freedom to go where you want, when you want.
Learning to drive is a major part of your life though; it can also be expensive and time-consuming. It is therefore so important that you think carefully about how you'll learn this new skill and who you'll choose to help you.
Some people choose to learn with a relative or friend but the best way to learn is to take professional driving lessons with a qualified ADI (Approved Driving Instructor).
An ADI is specially trained to teach you what you need to know to be safe on the road and to pass your driving test. They will make sure that you don't develop bad habits which can be hard to break.
If you practice driving with friends or relatives between lessons that's a great idea but they must be over 21 years, have had a licence for at least 3 years and be qualified to drive in the vehicle you're learning in.
You should aim to choose a driving instructor based on recommendations from someone you know, but if this is not possible have a look at some of your local driving instructor's customer reviews. This can help you make a decision, but it won't guarantee a quality instructor.
Once you have started your driving lessons you need to decide if you are happy with the instructor you have chosen. It may take two or three lessons to fully decide, especially if you are particularly nervous learner.
Many driving instructors will offer a price reduction for a block booking of 10 or more hours. This can make a good overall saving for you, but make sure you're happy with the instructor before committing to a block, or enquire whether there is a money back guarantee in case you're not happy for any reason.
Good driving isn't just about learning the rules of the road. Your skill and attitude as a driver are important as well. A good driving instructor will help you to develop the skills to become confident about how to drive safely and how to be patient with other road users. To enable you to stay safe and help keep others safe, a good driver needs to be able to anticipate what could happen around them and react accordingly. This is known as Hazard Awareness and Defensive Driving and is a vital skill that a driving instructor will help you to develop.
When Can I Start to Learn to Drive
You can start to learn to drive on public roads from when you are 17 years old.
Some driving schools offer Young Driver, or otherwise known as Off-Road, driving lessons that can be taken from a younger age.
These are great fun and a fantastic way to ease you into learning to drive.
You can learn skills before you start to drive on public roads such as:
Moving Away and Stopping
Reversing Skills
Steering Skills
Emergency Stop
Parking Skills
Dealing with Junctions
How Many Lessons Will I Need
'The National Average is 47 hrs Plus 20 Hours of Private Practice'
Some learners will take less hours than this, and some learners will take considerably more hours. Everyone is individual and should learn at their own pace. You cannot compare yourself to anyone else, or compare how many lessons a friend needed to pass their test, we all have different skills, different strengths and weaknesses.
The number of hours tuition needed can depend on where you live and how near you are to your driving test centre. For example, a learner driver who lives in a rural place that's a 45 minute drive to the test centre can have a major chunk of lesson time taken up in getting to the town, to a dual carriageway, to roundabouts, to the trickier junctions etc. Although all driving experience is positive and will be beneficial, completing the same familiar routes will not develop a learner driver as much as driving on a variety of roads.
The amount of private practice you have, where you drive to during the private practice, and who is accompanying you will also have an impact on how many lessons are needed overall.
Doing a little lesson preparation can help to achieve more during lessons. Some instructors will guide learners to some reading or videos that can help with the next subject they will be covering. Completing the lesson preparation can help you need fewer driving lessons overall, saving both time and money.
Provisional Driving Licence
You will need a provisional driving license before you start driving on the roads.
You can apply for your provisional license up to 3 months before your 17th birthday (or when you're 16 if you receive the higher rate of the mobility component of Disability Living Allowance).
It's a good idea to apply early so it arrives in good time for you to start your driving lessons.
You can apply for your provisional driving license online on the following website:
https://www.gov.uk/apply-first-provisional-driving-licence
or you can apply by filing in a D1 application form available from a Post Office.
The Theory Test
You can book your theory test once you receive your provisional license, and take it any time from your 17th birthday.
There are 2 parts to the test; multiple choice questions and a hazard perception test.
The multiple choice questions are based on the information provided in 3 books:
The Highway Code
Know your Traffic Signs
The Official DVSA Guide to Driving the Essential Skills
These books can be used to help you to prepare for the exam, and there are plenty of DVDs and Apps available.
The hazard perception test requires you to watch short film clips and recognise and respond to hazards, the sort of hazards you may come across while driving yourself.
You need to pass both parts of the theory test at the same time, if you fail one part you must re-take both parts.
There are Apps and DVDs to help prepare for your hazard perception test.
The Practical Driving Test
You can book your practical test once you've passed your theory test.
If you have had lessons with a driving instructor, they will take you to the test centre and you will use their car for your test.
Your instructor can wait for you or accompany you on your test. It's your choice.
The practical test will last for about 40 minutes and you may be asked to:
perform an emergency stop
do a hill start
drive a 20 minute independent drive following route directions or a Sat Nav
park forwards, or reverse, into a bay (the examiner will specify)
parallel park
pull up on the right hand side of the road, reverse a couple of car lengths and re-join the traffic
You'll get your result once you return to the test centre at the end of your test.
If your instructor has not accompanied you on the test it is a good idea for them to be present for the feedback. If you have not been successful you both need to be aware of the areas that require more practice.