Driving Lessons Blandford
Learn to drive in Blandford with our local, professional driving instructors.
We provide quality tuition and excellent customer service to help you become a confident and safe driver.
Learning to Drive in Blandford
Spot On Driving has an excellent reputation in Blandford for providing quality, client-centred driving lessons to local pupils.
We pride ourselves in treating each learner as an individual. We find out how you like to learn and adapt your lessons accordingly. This way you are much more likely to retain skills and information, as well as take responsibility for your own learning.
We provide quality eLearning for all our pupils through our website so you can prepare for your lessons in advance. You are also able to revisit what you have covered previously in preparation for your tests. Having an idea about what you are going to cover in your lesson will help your knowledge and understanding of each topic, help you to learn quicker and cover more on each lesson.
Driving Lessons Blandford
We understand that learning to drive can be quite daunting at first, so we ensure that we listen to any concerns you may have. Your progression and development will be at your own pace.
Blandford is a great place to start to learn how to drive. You will start your lessons driving up and down Holland Way, turning at either end with help from your instructor if needed.
Please visit our Prices page for our latest Pay As You Go or Block Booking prices. We also offer Young Driver lessons and refresher lessons.
Your Test Centre
You will take your driving test at either:
Yeovil Test Centre, Preston Road, Yeovil. (Abbey Manor Business Centre, Preston Road, Yeovil BA20 2EN)
Or:
Dorchester Test Centre, 66 Peverell Avenue West, Poundbury, Dorchester DT1 3SU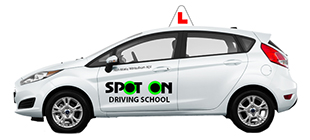 Contact Spot On for driving lessons in Blandford
If you would like to book lessons with Spot On, or discuss starting lessons, please fill out the form below or contact us on: